With today's technological advancements, having a strong online marketing strategy will help boost your business, attract more customers, and retain your old ones.
A digital marketing strategy outlines how your business will achieve its marketing goals through online platforms like social media. Strategy plans will summarize which online channels and digital marketing tactics can be used.
Therefore, it is essential to create or improve your strategy to reach your marketing goals. Smart Insight's Managing Digital Marketing 2020 report discovered that nearly half of companies still don't have a marketing strategy of their own.
The Nine Types of Digital Marketing
Digital marketing is divided into nine types, and here's a list for you to be aware of your options on what to incorporate in your business and see which one will be more successful and applicable.
Search Engine Optimization (SEO)
This is the practice of improving websites to become more search engine-friendly and bring organic traffic to the website by ranking highly in search engines and its results page for specific target keywords.
Just like SEO, a pay-per-click needs a thorough analysis of keywords that are relevant to the business. Think of a set of keywords that can be cost-effective for you and are set to be clickable. It is a paid form of advertising that relies on an auction-based system.
Social Media Marketing (SMM)
This kind of marketing promotes products and services advertised through social media management platforms.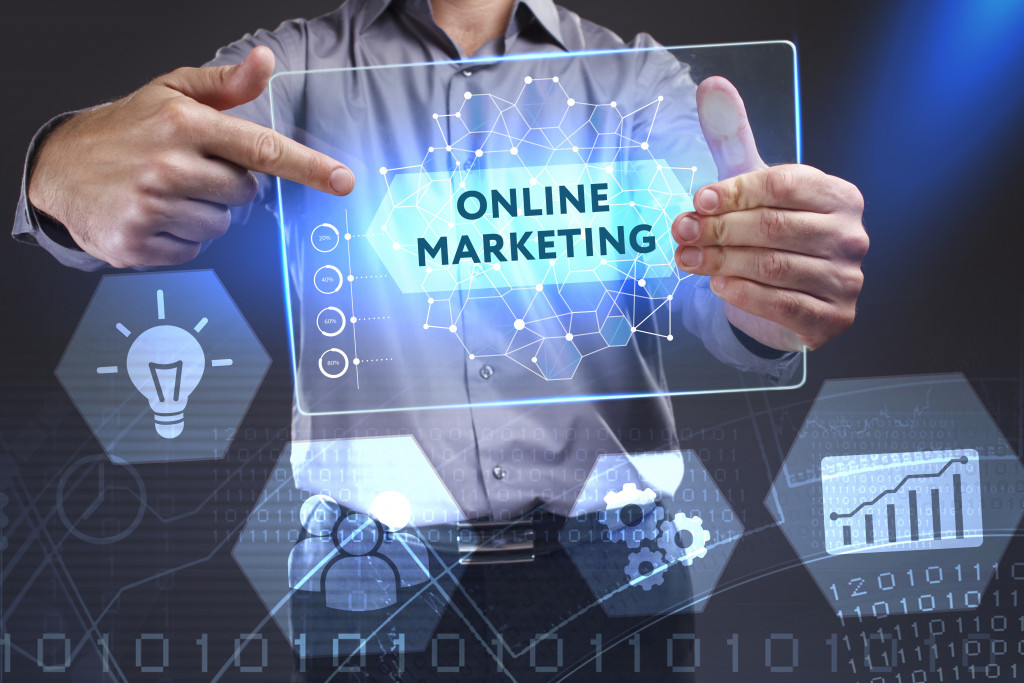 Content marketing is a continuous process that uses blog posts, vlogs, pictures, and montages to enhance customers' experiences. You have to come up with helpful content designed to educate and attract your target audience.
This is a marketing approach to use email as a way to nurture existing and potential customers.
Influencer or Affiliate Marketing
Influencers and content creators have a large fan base, and companies can work with such people to create brand awareness. Online businesses also have influencers take over their social media platforms for a short time to guide their followers to the business's social media pages.
It is a type of marketing where consumers share information about the company's goods and services through a viral post. There might be no guarantee that content posted will go viral, but this kind of strategy can gain a short-term yet remarkable increase in traffic.
This is a way of marketing through SMS and pushes notifications to get a customers' attention. This can be a powerful way to influence a customer, especially when paired with social and mobile advertisements.
Native advertising or advertorials or sponsored content is a type of online advertisement that resembles the editorial content of the website they are promoting.
How to Create Your Strategy
Listed below are tips to consider when you are creating your business' digital marketing strategy.
Before you start with making a plan, decide on your goals for the business first, which should be tied back to the fundamental goals of your business. Setting goals can serve as a backbone of effective marketing. It can push you to success and in a positive direction. It can also let you know what successful marketing may look like and how it can boost a business.
Just make sure that the goals can be attainable within a given period and can be both measurable and suitable to your business.
Create a Customer Persona
Creating a persona for your buyers can help you identify and make necessary changes to your services based on your potential consumers' needs. Your customer persona should be based on research and not just estimations and assumptions. Target the perfect audience with the right age, environment, basic background, job title, location, and needs.
Make It Easy for Customers to Reach You
When you can easily reach and contact a business, that means you care. Online businesses and even companies that are not online-based but have social media and other internet platforms to ensure they can be contacted and easily found online. Your visitors and other potential customers should not exert efforts to connect with your brand.
Invest in good landing pages to ensure relevant data and provide more convenience to your customers. You can also hire a mobile application development company to design a custom application that keeps communication smooth and lets customers find information without hassle.
High-quality and well-thought-of content is crucial to any digital marketing strategy, and blogging is one way for you to do that. Blogging can be a way to produce content, generate new leads for the business, and bring more traffic to your website. It also allows you to generate new leads for your company and give you an insight into your customer base.
Final Thoughts
Digital marketing is complicated, even with the nine standard ways to advertise and boost your products. It is never easy to create a strategy to make sales, but doing the basics like creating a customer persona, maintaining a blog, and thinking of your goals goes a long way.